Companion for root cause research
Yager Code: Hypnosis without hypnosis
Get to the root of deeper issues!
Yager-Code: Hypnose ohne Hypnose
Tiefer liegende Themen an der Wurzel packen!
Begleiter bei Ursachenforschung
The Yager Code
is an excellent method to get to deep roots – roots of those problems that limit our joy of life.

Hypnosis without hypnosis
In principle, it is like a kind of hypnosis, but without hypnosis. With all – just not only the conscious – accessible resources and abilities, access to numerous causes for physical (pain, addictions etc.) and mental issues (e.g. fears of all kinds) becomes possible – they are alleviated or can even find healing.
I like to embed the application of the Yager Code into my processes; at the same time, relatively short, compact "packages" (about 3-5 sessions) are also possible that focus on this methodology.
Levels of consciousness
Dr. Yager speaks of three levels: the conscious, the subconscious and the extraconscious level. His work has been confirmed in numerous clinical studies. In an average of 1-4 sessions, stuck issues can be brought back into flow, so to speak. Almost needless to say, what this can do for the joy of life!
Numerous clinical studies have thus proven the effectiveness of Yager therapy. Among other things, it can be used very well for: Anxiety, depression, addictions and sleep disorders, but even physical phenomena.
Your benefit counts!
In addition to my activities as a coach and management consultant, I am also a non-medical practitioner for psychotherapy (HP Psych) and also offer Yager therapy. As described, I am happy to accompany you afterwards in your further development and on your further path – just as you wish.
Of course and as always, one or the other method may not work at all, partially or completely fantastically for someone. – It is always important to me to try out new things together and to test them, so to speak, as well as to combine several methods with each other if necessary.
The only thing that counts for me is that it brings YOU a benefit. – From my point of view, and this is how I practice it, methods and approaches should always be combined and chosen in such a way that it "fits" someone and a given situation.
So a collaboration can include YAGER, but it doesn't have to.
I completed my training in the YAGER code with Dr. Preetz.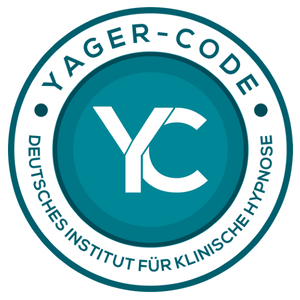 Your theme solver
If you are curious and have an issue that has been limiting your joy of life for a long time and that you would like to solve, feel free to contact me.
I am happy to be there for you and look forward to finding out together with you whether we are "right for each other". Let us arrange a free meeting to get to know each other: Live on site, by phone or by video call.